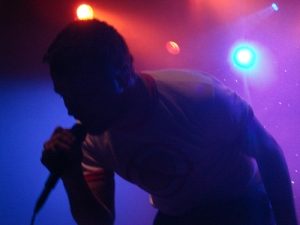 Factfile
Edit
Name: Maxim Adam Bemis (Max Bemis)
Birthdate: April 6, 1984
Birthplace: New York City, New York, U.S.
Years Active: 2000 - present
Other acts: Two Tongues
Role: Lead singer, primary lyricist, live guitarist, performs vocals, guitar, bass guitar and keyboard on albums

Early Life
Edit
Max was born in New York City on April 6, 1984. He and his family moved to Los Angeles, California, when he was a child.
Beginnings of Say Anything
Edit
During Max Bemis' high school years, he attended Camp Ramah in Ojai, California. There, he met future Say Anything drummer Coby Linder, who attended Shalhevet High School. At the time, Bemis attended Windward School along with future band members Michael Levin and Evan Span.
Upset after a bad breakup, Bemis began writing songs, beginning with his first song "Sappy." In 2000, Bemis, Linder, Levin, Span and Josh Eichenstein, a friend from Beverly Hills High School, formed a band under the name Sayanything, in reference to the movie Say Anything..., which Bemis "really liked" at the time.
Drive-Thru Records pursued the band and called Max Bemis "the next Bob Dylan" (although Bemis is not a fan of Dylan and was not particularly happy about the association).
Bi-polar disorder
Edit
Max was diagnosed in 2005 after a nervous breakdown, shortly before the re-issue of ...Is A Real Boy.

"I literally lost my mind while we were recording," stated Bemis regarding the breakdown. Heavy marijuana use, anxiety caused by recording and writing the album, and what would later be diagnosed as bipolar disorder landed Bemis in a mental institution. The breakdown centered around a mockumentary discussed by Bemis and O'Heir. Bemis' condition led him to believe he was being secretly filmed for the mockumentary; the situation culminated in him walking the streets of Brooklyn thinking he was being filmed while encountering friends (whom were actually strangers). After recovering, Max Bemis decided to focus solely on the music and dropped the idea of a script.
Max has also spoken extensively about bi-polar disorder and his personal issues with drugs and alchol to halfofus, describing his self-medicating before he was aware of his bi-polar disorder.[1]
Other Musical Endeavours
Edit
Max is a founding member of Say Anything. In addition to his work with Say Anything, Bemis recorded an album with Chris Conley of Saves The Day entitled Two Tongues. Along with cameo work with various groups, Bemis is featured prominently on Nightbeast's album Inside Jokes for Outside Folks. Max provided vocals on Motion City Soundtrack's Even If It Kills Me. Max also featured on New Found Glory's cover of Crazy For You, for their cover album, From The Screen To Your Stereo Part 2. He also recently lent his vocal talents to the indie/electro duo LadybiRdS as well as making a guest appearance on I Can Get Back Up by Washington DC's indie/powerpop princes, You Me and Everyone We Know, as well as his side project "Max Bemis and the Painful Splits". He is also involved in a side project with his wife Sherri Dupree-Bemis called Perma, along with his Song Shop business.